How to tackle trailer axle servicing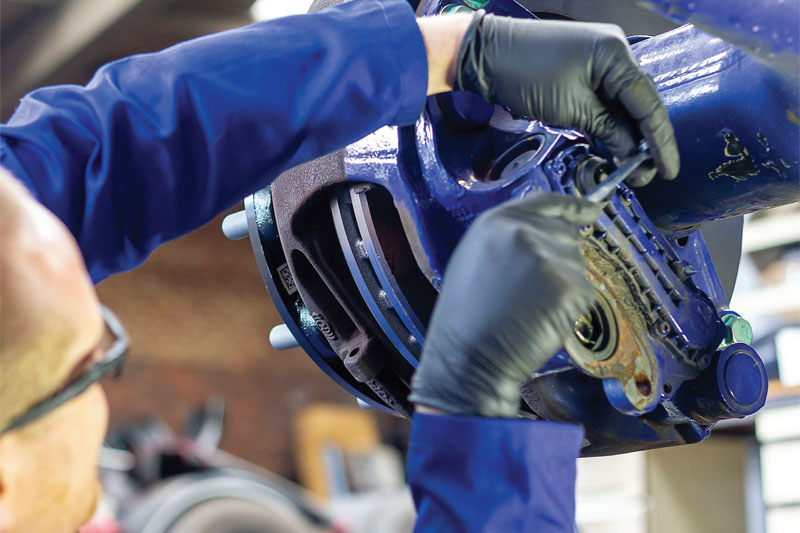 Gavin Takel, Technical Sales Manager – Axles for Jost UK, says that when it comes to a trailer axle, a simple, regular inspection and maintenance routine will keep commercial trailers safe and profitable.
The consequences of an accident or vehicle failure while on a public highway can be far reaching and extremely serious for any business. Haulage companies in particular are expected to maintain an exemplary record of reliability and safety, with fines or jail sentences being imposed in instances where proper precautions have not been carried out.
The best way to protect against unexpected failures and the consequences they bring is to carry out regular inspections and maintenance. In the case of axle systems, Jost recommends a simple procedure every six to 12 weeks that takes less than an hour.
Brakes
Perhaps it is not surprising that Jost recommends that you always start with the brakes. By carrying out a simple 'knock test', you can get a good indication of a correctly functioning brake caliper. By pushing and pulling the brake caliper in an axial direction by hand, it should be possible to establish movement within the running clearance. A knocking sound should be present as the caliper comes into contact with the brake pads and discs, indicating that there is play in the system, that the caliper is not seized, and a good amount of running clearance is available.
Visually inspect the discs and pads to ensure that they are in good condition and that wear is even. Check the operators' manual to confirm the maximum amount of wear on the discs and pads.
Brake calipers are of a sealed design, so it's important that the sealing elements are checked on regular intervals. Ensure guide pin sealing bellows/caps, adjuster caps/cover and the main tappet bellows are all present and undamaged.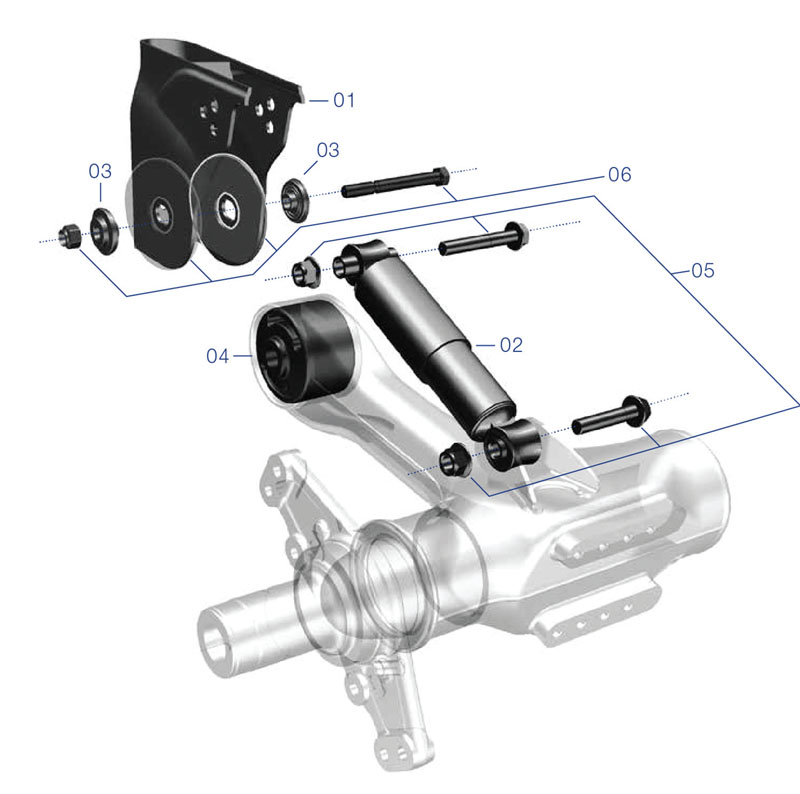 Roller Brake Tests (RBT) are always important and the results can be used to detect developing performance issues with the individual brake assemblies.
Suspension
Jost axle systems use a one-piece fabricated suspension, so it's important to check that the 3D pivot bush is in good condition and not showing signs of wear, fatigue, fracture or damage. Also, check the wear plates protecting the hanger bracket either side of the bushing; if they are worn or missing, this can indicate that a worn 3D pivot bush must be replaced, along with new wear plates and bolts.
Shock absorbers
Shock absorbers help keep trailers stable and prevent 'lock-up' during braking, and as such, are vital to the safe operation of the vehicle. Time should be spent looking closely at each shock absorber to make sure there is no leakage, or signs of damage or ageing. You should then check that they are in the correct position and make sure they are properly secured.
Air bellows
Air bellows need to be checked in a manner similar to inspecting a tyre, as perishing of the rubber is the most common problem. You should look for tears or other damage, such as wear and exposed reinforcing cords, bulging or disfigurement.
If there is any indication that a bellows is past its best, it should be swapped out for a new one. The rate of wear of an air bellows is difficult to estimate, as it depends on the duties of the vehicle, the weight of the load it is carrying, and the quality of the road surfaces. This is why it's important to remain vigilant for signs of ageing throughout its life.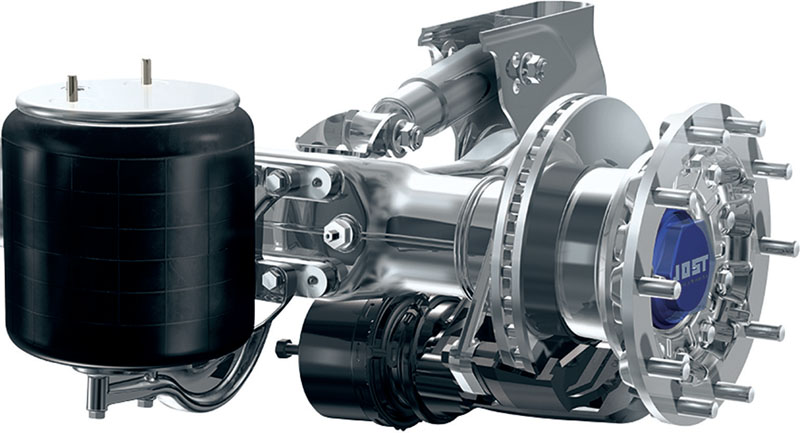 Hub
The hub assembly and bearing are important hardworking parts of the axle systems, so jacking up the axle on both sides and checking them thoroughly is important.
You should spin each wheel in turn; it should turn freely without any play or wobble. Furthermore, it should turn with no noise; constant or intermittent is indicative of friction, which is almost guaranteed to do damage over even a short journey.
Jost axle systems are designed around a compact bearing, which is pre-loaded to a set level and can be tested by checking to see that there is no play in the system.
Conclusion
After carrying out the above tasks, you should have a final visual inspection to ensure that all the protective caps, covers and pins are in place, the screws and bolts are done up, and that everything is fit for purpose. Jost further recommends that technicians and fleet managers regularly attend training courses to maintain, revise and extend their expertise.
A safe and profitable fleet of trailers has to be inspected and maintained regularly, and when you consider the consequences of an accident, it is clear that diligence and thoroughness will pay for themselves many times over.
Jost trailer update
Since Summer 2018, all Jost trailer axles from the DCA series are available with the new Jost DCA-T7 with its proven twin tappet technology. Thanks to the disk brake DCA L-7, the lightest axle in this class is now lighter. The DCA-L7 disc brake for 22.5" applications is designed for maximum payload due to a weight-saving construction.